We encourage you to participate in Earth Day events/actions — and to share this info with relatives, friends, neighbors, youth, parents, grandparents, etc.
This week, is the 50th anniversary of Earth Day. A Youth Climate strike was being planned. Instead of mass protests, from Wednesday 4/22 to Friday 4/24, youth and adult activists are coming together for Earth Day Live, a three-day live stream focused on climate action. The live stream will include training sessions, performances, and appearances to keep people engaged, informed, and inspired, with speakers including celebrities, politicians, scientists, and youth activists.
Take a look at the national website for programming here:
https://www.earthdaylive2020.org/#schedule
There will be breaks for local program, or local program will happen during or after national livestreaming.
Here is a national map that leads to local events/actions
https://www.earthdaylive2020.org/#local-livestreams,
Here is a list of local Bay Area events/actions connected to EarthDayLive2020
www.sunflower-alliance.org/sign-up-to-join-three-days-of-global-climate-action-april-22-24/
Labor Network for Sustainability has compiled a list of events of interest to labor activists. Here are some of the listings:
Earth Day to May Day Chicago Coalition

Labor Network for Sustainability is a proud co-sponsor in the Earth Day to May Day Chicago Coalition. Chicago also happens to be the birthplace of May Day:
What: Virtual Townhall
When: April 22, 12 p.m. Central
Where: On Zoom
From the Coalition's open letter on Medium.com:
"50 years after the first Earth Day the climate crisis is approaching irreversible destruction to our communities as we are seeing some of the most devastating impacts of environmental injustice and racism play out in front of us through the COVID-19 crisis."
The letter also points out that air pollution is linked to increased COVID-19 deaths; 70% of those who have died from COVID-19 related deaths in Chicago are Black, despite they're representing only 30% of the population, and "low wage workers are carrying the brunt of the resulting economic crisis. Now more than ever we are called to action.
"The Earth Day to May Day Chicago Coalition has come together to unite "labor, community and environmental justice organizations during this public health, economic, and environmental justice crisis."
RSVP for this action » Get The Chicago Calendar »
---
350 San Francisco
The SF Climate Justice NVDA Spokescouncil including Idle No More, Diablo Rising Tide, Extinction Rebellion, Code Pink and others will co-sponsor two events during which we will display videos and still photographs. The Defund-a-thon will also include a panel discussion about the need to divest from fossil fuel companies and their funding sources.
9 – 10 AM Video event
Link to the Zoom Video is at the RSVP site.
4 – 5 PM Defund-a-thon
In addition to the panel discussion, people are invited to make pictures or videos of themselves divesting online or by phone, cutting up Chase cards, etc. Defund-a-thon ideas include: Tweet your video to the bank; Write a Yelp review calling the bank out for its fossil fuel investments and video yourself reading it. Link to the Video will be available soon and displayed at the RSVP site. It may be a Facebook Livestream.
---
Songs of Sustainability, Solidarity and Protest
Featuring Joe Uehlein of The U-Liners and LNS
Music has always held a core role in the labor movement and the climate movement.
To honor the role of music in change-making, this year, from the 50th Anniversary of Earth Day, where we celebrate our fight to right the environmental wrongs and turn back global warming, to May Day, an internationally recognized worker holiday, to May 4, the 50th Anniversary of the Kent State Massacre, where government troops opened fire on Vietnam War protesters killing four students, LNS will be featuring labor, climate, and peace-themed songs from LNS president Joe Uehlein and others on our social media. If you're interested in submitting your own recording of a song to be featured, check out the google form at this link.
We've kicked things off with Joe's cover of "Paradise" by the incomparable John Prine.
---
Save Our Postal Service. Save Our Democracy.
Tune in at 8:30 p.m. EDT, this Thursday, April 23, for discussion with young postal workers about their experiences on the frontlines of the COVID-19 crisis, the fight to save the postal service, and the crucial link between the postal service and democracy. Join us to learn about the efforts of postal service workers and their unions to create a green and sustainable future and how we are in this together. Will be lived-streamed by Earth Day Live 2020.
---
Transit Workers: Earth Day to May Day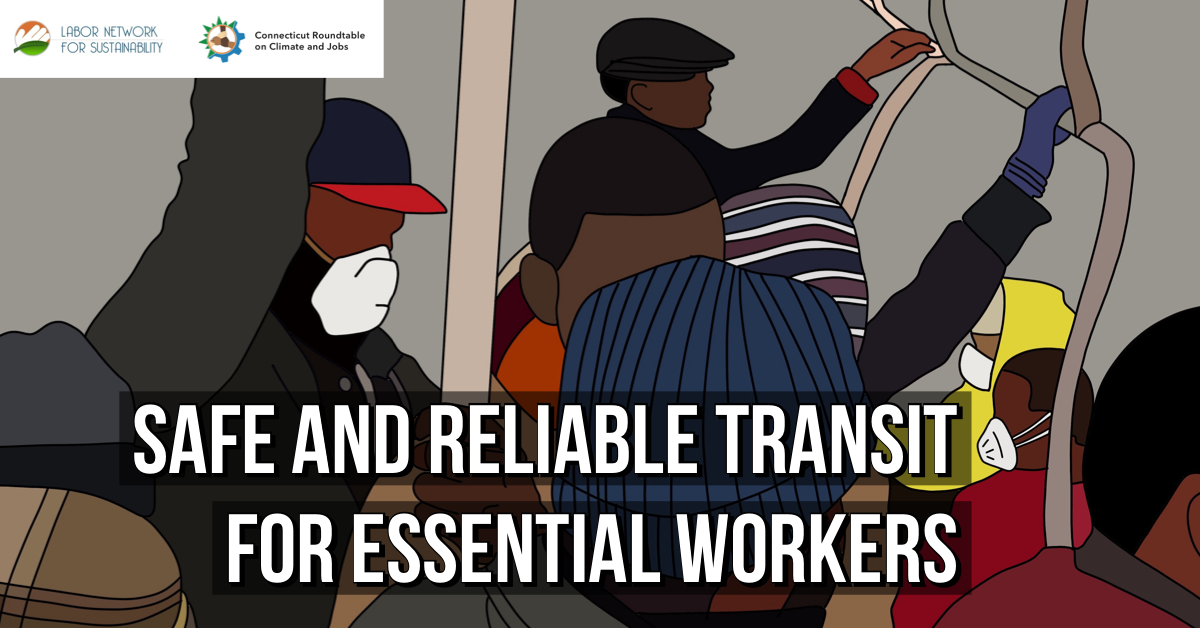 Protection of Workers will continue to be more relevant than ever amid the COVID-19 crisis. The Labor Sustainability Network has organized more than 70 unions and grassroots organizations and coalitions in the public transit and environmental justice movements to sign a letter urging Congress to provide more funding for transit agencies and to cover hazard pay, costs for personal protective equipment (PPE), onsite COVID-19 testing and treatment at work locations. We're keeping our social media campaign going starting now through May Day and beyond. Learn more, read and sign on to the letter, get the toolkit >>
---
United in the Fight
United in the Fight: Making the Connections Between the Labor and Climate Justice Movements (Mary Key Henry, Kate Walton, Renata Kamakura, Adriana Alvarez, Ernesto Garnica)
April 22, 6:30 pm Eastern
---
Intersection of Climate Change & Coronavirus: a Live Panel & Town Hall
April 22, 7-8 p.m.
Click here to join the Webinar
The webinar will also live stream on the 350NM Facebook page. View it there as an alternative to Zoom.
The Albuquerque Climate Coalition will present a live Webinar with a panel of speakers:
Albuquerque Mayor Tim Keller
Ahtza Dawn Chavez – NAVA Education Project
Nathalie Eddy – Earthworks
Rebecca Sobel – Wild Earth Guardians
Mark LeClaire – Farmer
Dr Anne Epstein
Allegra Love – Santa Fe Dreamers Project
YUCCA (Youth United for Climate Crisis Action)
FFOL (Fight for Our Lives) & Mutual Aid ABQ
Mario Atencio, Navajo Community Leader/Dine Care
Speakers will speak to the effects of the COVID-19 on their community and how it has exposed disproportionate vulnerabilities of poor, marginalized and rural communities. They will also address how these vulnerabilities intersect with the looming climate crisis underlining the need for our focus on a Just Transition to a fossil fuel free world. What will the pandemic teach us about the societal shifts needed to prepare for the Climate Crisis, locally and globally?
A conversation will follow to hear from the public on their views of the intersection as well as a Questions & Answers
Stay tuned for further updates via email or visit the Facebook Event join the webinar.
---
NAACP, Earth Day Happy Hour
Hosted by the NAACP Environmental and Climate Justice Program
April 22, 6 p.m. – 7 p.m. EDT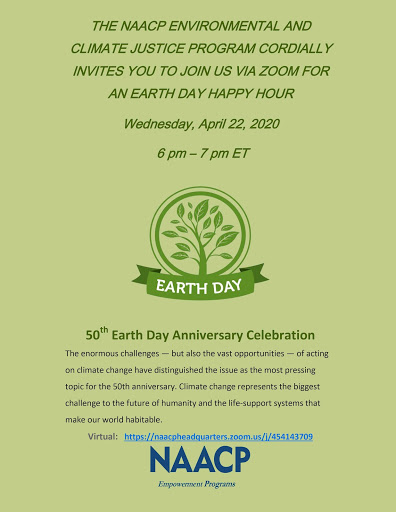 ---
#JustRecovery

Join the San Francisco community on April 22, 4 – 5 p.m. Pacific, to learn about our immigrant, communities of color and worker-led climate justice looks like in San Francisco and the Bay Area. The action will be live-streamed at Earth Day Live 2020. Tune in!
Information on how to log on to this event:
From Earth Day to May Day: For a Just Recovery and Our Future
Start: Wednesday, April 22, 2020 at 4:00 PM
End: Wednesday, April 22, 2020 at 5:00 PM
https://www.facebook.com/jwjsf/
San Francisco, CA,
Host contact info: solidarity@jwjsf.org
---
Tennessee Valley Energy Democracy Movement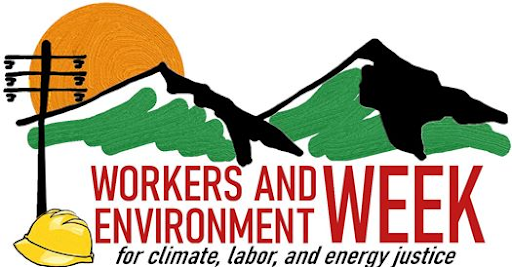 Earth Day to May Day is #WorkersandEnvironmentWeek, and we're calling for climate, labor and energy justice in the Tennessee Valley! Throughout the week, Tennessee Valley Energy Democracy Movement will share stories from community members who have been impacted by our public power system and their vision for transforming it from the bottom up. Follow our page for these stories and for events and actions you can join.
---
Speaking from the Trenches Zoomcast
"Speaking from the Trenches: Labor and Community action in the time of Covid"
April 22, 11 a.m. – 3 p.m. Pacific, On Zoom, Twitterchat starts at 10 a.m. Pacific, Hashtags: #LaborCommunityAction #EarthDay2020
RSVP to register for Zoomcast >>
Speakers from Healthcare, Grocery Workers, Farmworkers, Postal Workers, Emerging unions, Young Workers, Labor Network for Sustainability; Domestic Violence, Tenants Rights, Immigrant Rights: Labor Education and Students for Quality Education, Advocates for the Incarcerated and the Detained.
---
#StrikeWithUs
From April 22 to 24, youth activists and adults are coming together for Earth Day Live, a three-day livestream focused on climate action. The online action will include training sessions, performances, and appearances celebrities, politicians, scientists, and youth activists. Social distancing doesn't have to mean collective disengagement.
Unions and Organizations Streaming or Participating in #StrikeWithUs Events:
---
Shut Down DC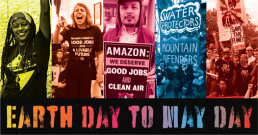 Shut Down DC will host online and socially distanced in-person events starting on April 22, when they participate in Earth Day Live then end on May 1, May Day, by bringing stories of COVID-19 "frontline workers to the nation's capitol.
Shut Down DC's Events Breakdown:
April 27-May 1
From their website:
Throughout the week of April 27, we'll take bold direct action online AND in person to shut down business as usual and create space for a healthier and more sustainable world. Each day of the week will focus on a theme to highlight the ways that the climate crisis threatens our communities and lifts up our opportunities to build resilient alternatives.
April 27 – Environmental Justice Right Here Right Now
April 28 – Bail Out the People and #CancelRent
April 29 – Hold the Corporations Accountable
April 30 – Keep Fossil Fuels in the Ground
May 1 – International Workers Day
Learn more, register for actions, share your workers' stories »