August 2019 is a "Month of Momentum": thirty days of protest at the San Francisco office of ICE (Immigration and Customs Enforcement). On each day of the month, a different community of Bay Area residents and activists has committed to protest during the noon hour at the ICE office, at 630 Sansome St. in San Francisco. Climate Justice activists from throughout the Bay Area took our turn on Monday, August 5th.
Activists across the progressive spectrum are demanding that the U.S. government's concentration camps (a.k.a. "detention centers") be shuttered; insisting that the U.S. immediately stop separating children from their families and caretakers and reunite separated relatives; and expressing outrage and shame at the U.S. government's brutal treatment of immigrants, refugees, and asylum seekers.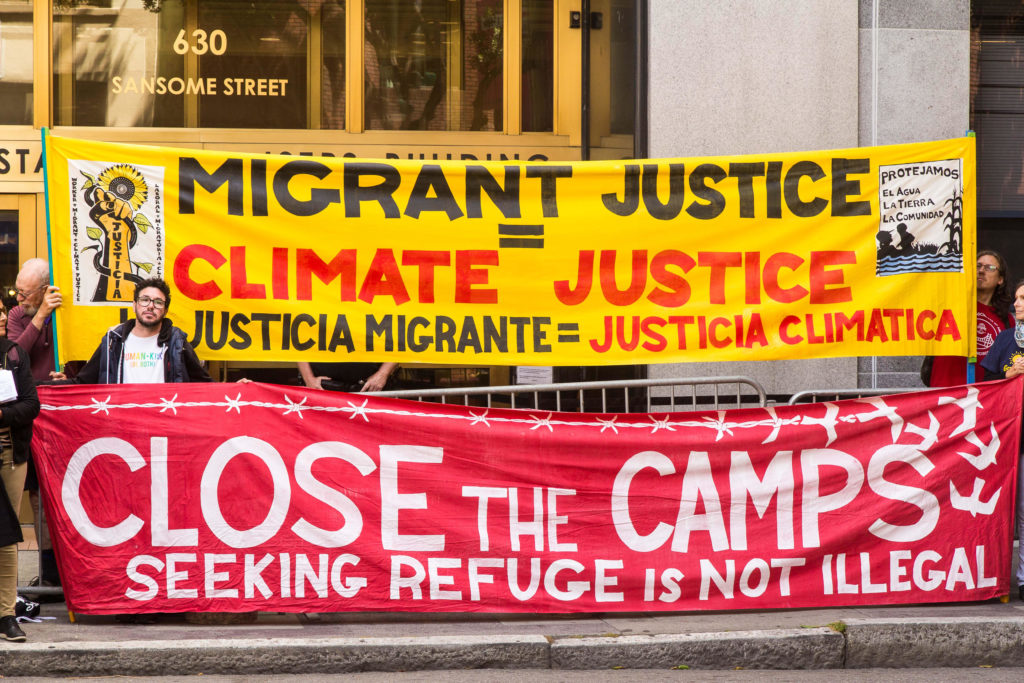 For the protest on August 5th, members of No Coal in Oakland's coordinating committee organized a broad group of allies in Climate Justice and Environmental Justice movements to make clear that Migrant Justice is Climate Justice.
No Coal in Oakland, No Coal in Richmond, 1000 Grandmothers Bay Area, Extinction Rebellion SF Bay Area, Sunflower Alliance, and Diablo Valley Rising Tide co-hosted the noon hour protest. More than a hundred people turned out for a protest organized on only a week's notice, from the co-hosting groups and others, including GreenAction, the social justice committees of Kehillah Community Synagogue, Youth vs. Apocalypse, and East Bay DSA's Climate and Environmental Justice Caucus. Talia Cooper took the mic to lead songs and chants prepared by members of 1000 Grandmothers Bay Area.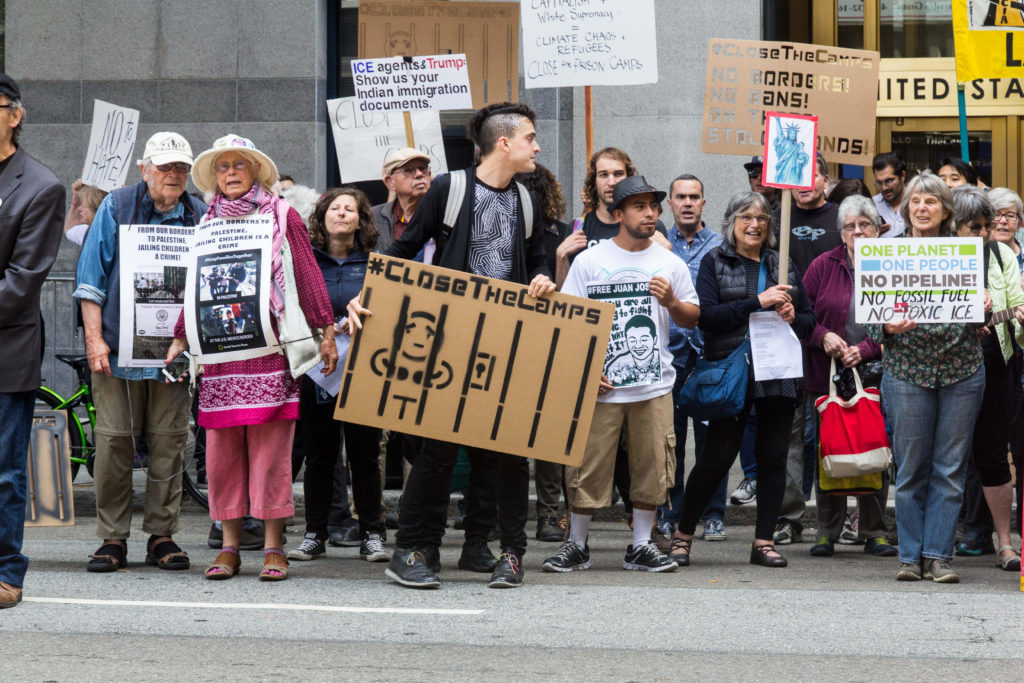 No Coal in Oakland says it is "proud to stand with our fellow Climate Justice activists in solidarity with migrant communities and every caring person who recognizes that to change everything, it will take everyone … and that no human being is illegal."
The full schedule of organizations and communities leading protests at ICE in August can be found on Google Calendar (also see calendar image, below).